Hai Yen Nha Trang was awarded the right to use the trademark "Nha Trang Salanganes'Nest for the first time
On March 31, 2017, Hai Yen Nha Trang Trading Limited Company. (hereinafter referred to as Hai Yen) was officially granted the right to use Nha Trang Certificate of Salanganes'Nest Certificate by Khanh Hoa Department of Science and Technology. Up to now, Hai Yen is the first and only unit in the country to be granted this certificate.
Thursday - 12/12/2019 03:35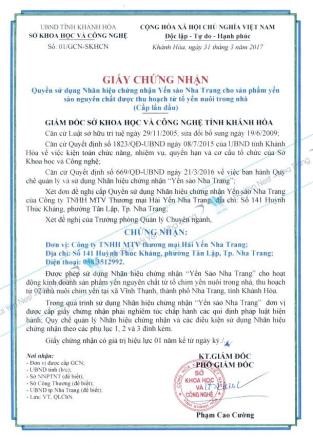 Hai Yen is the first unit in the country to be granted the logo to identify "Nha Trang Salanganes'Nest" - representing the prestige and the highest standard of quality Salanganes'Nest exploited in Nha Trang, Khanh Hoa. The reason is because the certification mark "Nha Trang Salanganes'Nest" is a prestigious brand of the community of organizations and individuals that exploit or raise and refine pure bird's nest products in the city. Nha Trang street, Khanh Hoa province. With this certification, Salanganes'Nest products can be confident about the quality and ready to represent the local Salanganes'Nest products, introduce to international friends.
According to the regulations of the People's Committee of Khanh Hoa province, in order to be branded with the certificate of "Nha Trang Salanganes'Nest", the products of Hai Yen swallow nest must meet properly and fully strict requirements about sensory, requirements for only quality standards (protein content, amino acid content, mineral content, ...), and requirements on the design and construction of bird's nest. In particular, Hai Yen will have to periodically take 01 sample / year to sample quality control at VILAS-standard laboratories.
Right from the early days of founding the company in 2013, Hai Yen has determined for itself the path to build brand reputation must come from the quality - the most important value of each product. Therefore, Hai Yen has constantly improved from the design, construction of bird's nest, methods of developing the bird's nest population in the nest, methods of exploitation, preliminary processing, packaging process, recording. labels, processing, preserving products, ... Every step towards the highest standards, so that bird's nest products are recognized by reputable organizations, conquering customers' trust with quality itself.
The right to use the trademark of Nha Trang Salanganes'Nest officially granted to Salanganes'Nest products is a recognition worthy of Hai Yen's continuous efforts during the past 4 years. And the pride called Salanganes'Nest Nha Trang has also found solid wings to be able to reach far beyond the international market.
From 19 - 22/4/2017, Hai Yen has the honor of being named Nha Trang Bird's Nest at Vietnam EXPO 2017 international trade fair. In addition to bird's nest, cordyceps, turmeric, mushroom Ganoderma of Hai Yen also receives great attention from visitors. With its participation, Hai Yen left a good impression on domestic and international friends about a business from Khanh Hoa with 100% natural beauty and health care products.