The Hai Yen attended the HITECH AGRO 2017 High-tech Agriculture and Food Industry Exhibition
From November 9-13, 2017, at Le Van Tam Park, Ho Chi Minh City, The Hai Yen attended the HITECH ARGO Fair on High-tech Agriculture and Food Industry. This is a great opportunity for The Hai Yen to interact with large businesses, improve technology, product quality, towards the standard of "High-quality Vietnamese goods".
Thursday - 12/12/2019 03:27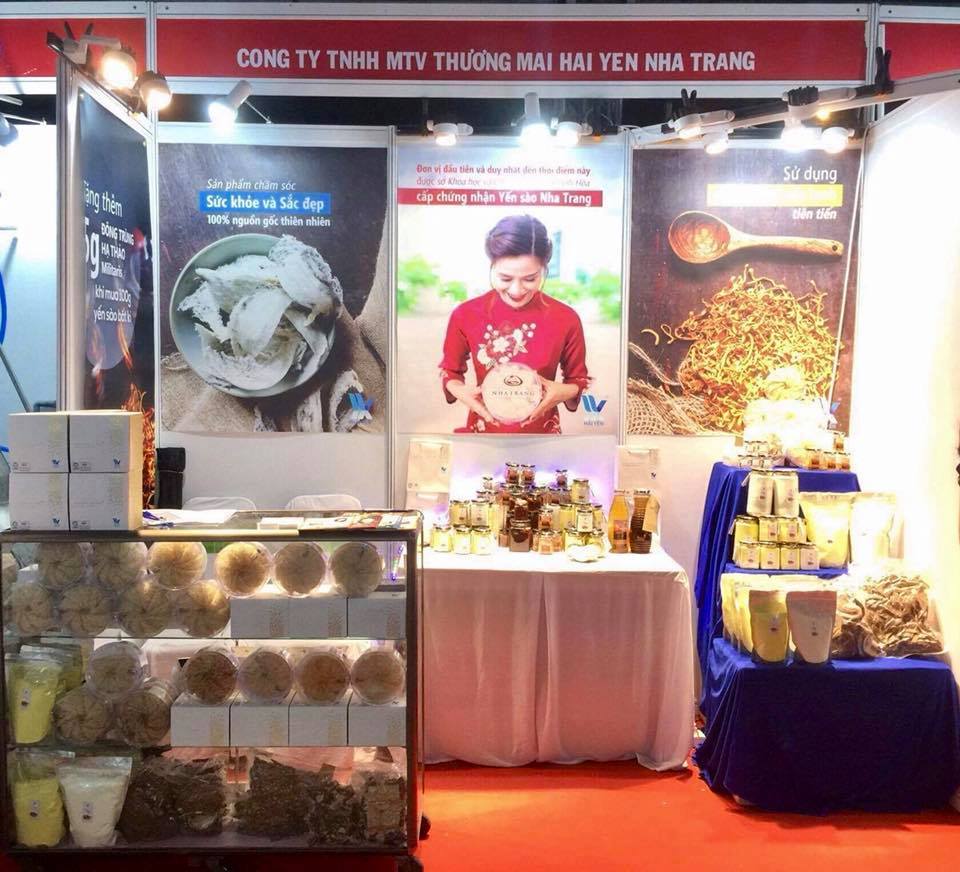 The exhibition "High-tech Agriculture and Food Industry 2017" (HITECH ARGO 2017) and "Market of food technology, storage and processing equipment 2017" was held from November 9, 2017 to November 13. 2017 at Le Van Tam Park, Hai Ba Trung Street, Da Kao Ward, District 1, Ho Chi Minh City organized by Ho Chi Minh City Center for Science and Technology Information and Statistics.

The fair has a scale of up to 300 stalls of domestic and foreign businesses, research institutes, universities, technology enterprises, startup businesses. The fair is a large playground for the units to introduce technologies and equipment in the field of food preservation and processing.
The strong products that The Hai Yen will take to the exhibition are Nha Trang Salanganes'Nest, Cordyceps, Ganoderma and Turmeric Starch, with confidence in 100% natural farming and extraction technology. However, make sure to keep the most nutritional ingredients inherent. At The Hai Yen, refrigeration technology is applied to the products of Swallow's Nest, Cordyceps and Turmeric Starch. The pre-processed product is dried in a low temperature, from 13 degrees to 39 degrees, with no increase in heat. Refrigeration technology ensures the product remains the original quality, color, natural taste.
In addition, thanks to the cold-drying technology, The Hai Yen's products minimize the process of microbial fermentation during drying and ecoli bacteria - the "potential" causes affecting the quality of the products. . Refrigeration technology has been available for a long time and is very popular in developed countries such as the US, Japan and Taiwan. Refrigerated products do not lose their color or heat. The nutrients and colors are retained almost completely.

Especially with the products of Salanganes'Nest, Hai Yen Nha Trang is proud to be the first and only unit in Vietnam to date to be given the right to use the trademark "Salanganes'Nest Nha Trang" (issued by Department of Science and Technology of Khanh Hoa, Vietnam), guaranteeing the quality and origin of products raised in the house.
Indeed, with The Hai Yen's internal resources of cultivating, exploiting and refining products and with the large scale of HITECH ARGO 2017, The Hai Yen can expect good opportunities to impress. The product is our core value, seeking for investment partners and aiming for the standard of "High quality Vietnamese goods".